If you want to make a homemade birthday cake for a special person in your life, use one of these five recipes. They are the BEST I have found in each category after testing many different kinds.
There is something special about a homemade birthday cake, even as they become more and more rare. In our family we tend to have a "friends" party where I buy an ice cream cake, and also a family party on the actual birthday. For the family party, we have a homemade cake and it's always one of these recipes.
I want my kids to remember their family birthday cake as a special, homemade thing… something that they picked out and that I did for them. But birthdays are a busy day already, and no one needs an elaborate project to complete.
So all of these are simple, made with everyday ingredients that you probably have already, and flexible. Any of these birthday cakes can be made as layer cake or as sheet cakes, which I love. The youngest kids often love to decorate a sheet cake themselves with M&MS, and sometimes I like to (attempt) pretty cake decorating with a layer cake.
1. King Arthur Flour's Yellow Birthday Cake
This is my favorite birthday cake recipe. It's a vanilla cake with chocolate icing, and kids and adults both love it. When you think of classic birthday cake, this is probably the type that comes to mind: old fashioned, homemade looking, and simple. The texture is light and tender, similar to a boxed cake mix, but without the artificial flavor.
One of my daughters requests this particular recipe for every special occasion, and even my non-dessert loving husband loves it. The recipe seems weird while you are making it, like there's way too much sugar, oil, and eggs. It also seems under baked when you take it out of the oven. But the recipe is very well detailed and you should just trust it.
Get the yellow birthday cake recipe here.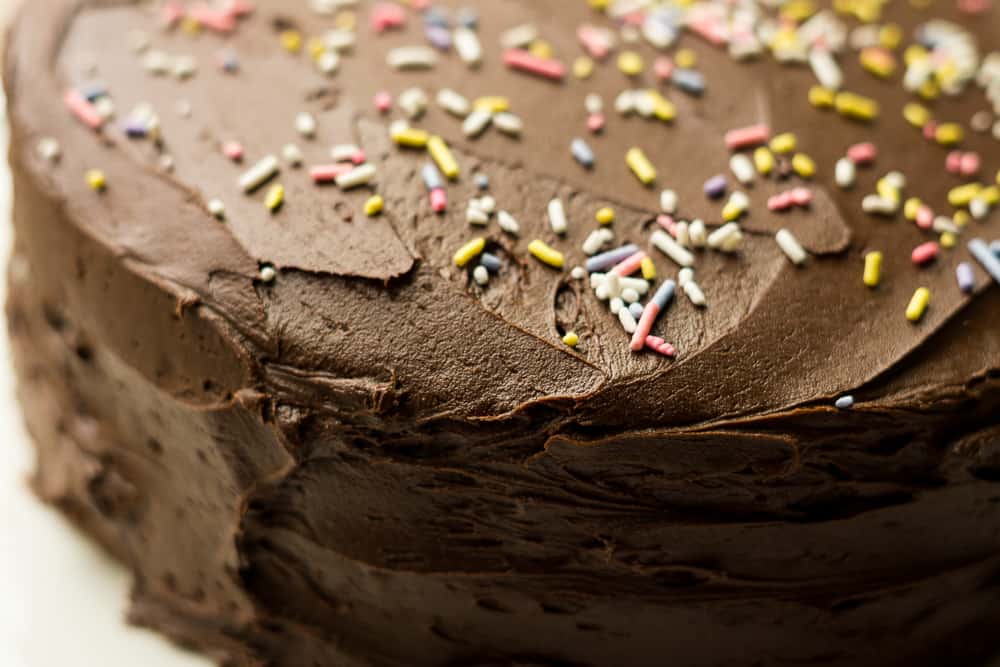 2. Pumpkin Cake
Does a pumpkin birthday cake sound wacky to you? It shouldn't! A fall birthday is perfect for a pumpkin cake and a pretty outdoor party. This recipe makes a super moist and delicious cake, and the cream cheese icing is amazing!
This is my own recipe, adapted from a blog that no longer exists. You can get my pumpkin cake recipe here.
3. Strawberry Poke Cake
I know, I know. Embarrassing to even include this. But you guys, this is a good cake, especially for kids. It's nothing but prepared boxed cake, cool whip, and Jello mix. It's sweet, soft, and always popular. If someone has a spring birthday, this is absolutely perfect.
Some days you need something super easy that you know if going to work and go over well. And for days like that, this recipe is perfect.
Here is a classic strawberry poke cake recipe. They are all pretty much the same.
4. Ina Garten's Beatty's Chocolate Cake
My second daughter loves chocolate and this is her very favorite. The whole family loves this one. It's similar to the one above, a classic two layer round cake. The flavor is perfect and it's not complicated to make.
I don't know who Beatty is but I thank them for making this recipe.
Ina Garten's Beatty's Chocolate Cake
5. Vanilla Texas Sheet Cake
Whenever I can't decide what to make and the birthday person doesn't have a request, I make this. It's a moist, classic sheet cake that is served right out of the pan. The recipe calls for almond extract but we substitute vanilla because we like that better.
I put out berries, M&Ms, then let the kids decorate it and call it a day.
Get the Texas Sheet Cake Recipe here.
Before you go
Do you have a favorite birthday cake to make? What about your favorite as a child? Or do you prefer to buy one at the store?
My husband is actually not a cake person at all, and asks for a pie on his birthday. Here are his favorite desserts, in case you are not a cake person either: