Ready in less than 30 minutes and using pantry ingredients, this delicious mac and cheese is sure to be a family favorite.
So quick and easy to make, you won't believe how delicious this mac and cheese recipe is! One of our favorite cast iron skillet meals.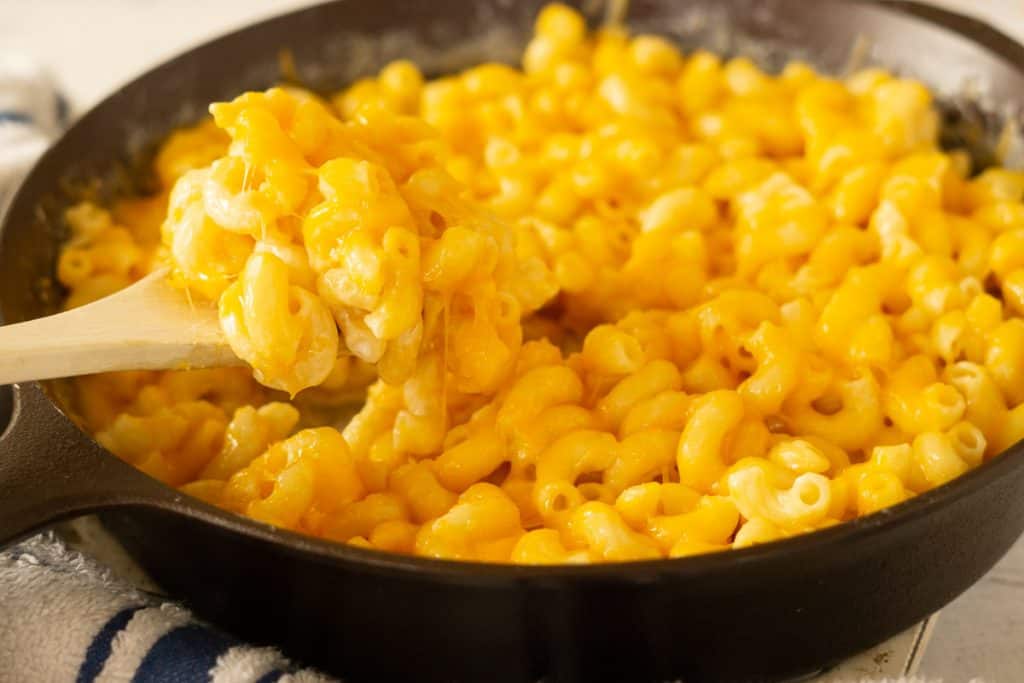 My kids would probably eat this every day if I would let them. And to be honest, sometimes I am tempted to let them because it's so very easy to make. It's truly just as quick and easy as making boxed macaroni and cheese, but it feels more wholesome and the adults like it too.
This is one of those recipes that is good to have in your back pocket for when dinner hasn't gone as planned and you need a hearty side dish to save the day.
Helpful tools and ingredients:
This recipe calls for evaporated milk and there are no good substitutions. I have tried it with half and half, and it's not the same. You can find evaporated milk in the baking aisle of your grocery store.
I make this in a ten-inch skillet. A twelve-inch one would work as well. Anything smaller and it will overfill the pan.
I find that mild cheddar works best for melting into the sauce, but for sprinkling on top, any cheese will do.
💡Frugal Tip
Evaporated milk is available and Aldi and Lidl and it works perfectly in this recipe! If you want a brand name, Carnation evaporated milk is available in 8-can cases at. Costco for a good price as well.
Step by step mac and cheese:
Begin by measuring out the elbow pasta while it's dry. You want to cook it until its just al dente. It will continue to cook as it simmers in the sauce, so make sure you don't overcook it!
Add the cooked pasta to the cast iron skillet, and add a can of evaporated milk and the. seasonings: 1/4 teaspoon of salt, 1/4 ground mustard, and a pinch of cayenne pepper.
You'll want to simmer the pasta and milk on low until it just slightly thickens. Be sure to keep stirring so it doesn't scorch.
Once the sauce has slightly thickened, remove the skillet from the heat and add the shredded cheese, stirring it in until it melts.
Sprinkle the final 1/4 cup of shredded cheese on top and place a lid on the skillet. The heat from the macaroni and cheese will melt the layer of shredded cheddar. Remove the lid and serve immediately, right out of the skillet.
What to serve with cast iron skillet mac and cheese:
Make sure you've planned a dish that doesn't use your skillet! This is a good time to make a main dish in the oven, like a roast chicken.
Serve plenty of veggies or a big salad so you aren't overwhelmed with starches!
You'll want a classic southern dessert to go with this, like caramel cake made in a bundt pan.
Here's the recipe!
🌟 If you try it and you love it, please give it five stars!
Cast Iron Skillet Mac and Cheese
Print Recipe
Ready in less than 30 minutes and using pantry ingredients, this delicious mac and cheese is sure to be a family favorite.
Ingredients
2

cups

of dry elbow macaroni

1/4

teaspoon

salt

1/4

teaspoon

ground mustard

pinch

cayenne pepper

1

15 oz can evaporated milk

1

cup

mild cheddar cheese

divided
Instructions
Cook the elbow macaroni in salted, boiling water until al dente.  Drain.

Simmer the cooked pasta, evaporated milk, ground mustard, cayenne, and salt in a cast iron skillet on medium low heat for 5 minutes, stirring constantly to prevent scorching.  When the evaporated milk has thickened slightly, remove the skillet from the heat.

Add 3/4 cup of the shredded cheddar, stirring until melted.  Sprinkle the remaining 1/4 cup of cheese on top.  Cover the skillet with a lid for a few minutes to melt the cheese on top.  Serve immediately.
Notes
To reheat, mix in a small amount of cream or half and half and microwave until hot, stirring halfway through. Try adding diced tomatoes, diced ham, or diced pickled jalapenos.